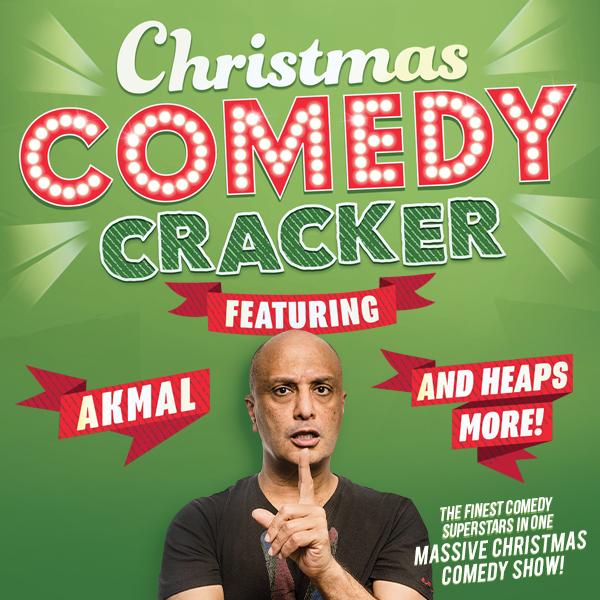 CHRISTMAS COMEDY CRACKER (18+)
Sunday 1 Dec 2019 | $32.00
Doors open 7:00pm
Show from 7:30pm

Christmas Comedy Cracker

Un-wrap a hilarious early Christmas present with a star-studded line-up of the funniest comedians Australia has to offer.

Head into the festive season with a stocking full of laughter as Dee Why RSL plays host to an uproarious 2 hour showcase of the finest comics in the land, featuring a range of comedians to suit every taste.
Don't wait for laughs from a dodgy Christmas Cracker – get your Christmas chuckles now!

Featuring: Akmal, The Stevenson Experience, Chris Ryan and Simon Taylor and more!


Akmal

Movies, Sketch, Stand-Up, Tv appearances, Radio personality and talk show host, improvisation and a published author, Akmal is one of Australia's most respected, successful and accomplished comics. He displays an incredible ability to deal with hot topics in a hilarious and non-offensive way. Being Australia's only Arab comedian, His Arab heritage steers his comedy to issues of religion, honesty, hysterical looks at modern day life. His uncanny comedic gift means he is one of those gifted comedians who has the audience eating out of the palm of his hand as soon as he walks on stage.
"No one wanted the show to stop…he seemed to own the stage" Sydney Morning Herald
????½ The Advertiser

The Stevenson Experience

As seen on ABC TV, Channel 10, Channel 11 and The Comedy Channel.
Benjamin and James Stevenson are identical twin brothers who combine to form the musical duo The Stevenson Experience. They have placed in the grand final of every national comedy competition in Australia and have been crowned the nation's funniest new comedians. A favourite in live venues, The Stevenson Experience have sold out comedy festivals around the globe since 2011, including two completely Sold Out runs at the Edinburgh Fringe Festival.
"An absolute stand-out, one of the best moments of Fringe" ????? The Fountain UK

Simon Taylor

Simon Taylor began stand-up on the Melbourne comedy scene. Within two years he met Jay Leno on a trip to Los Angeles and was asked to be a writer on The Tonight Show. Since then he has written for Shaun Micallef's Mad as Hell on the ABC and for Comedy Central in the US.

He then went on to tour the globe from Albuquerque, to New York, to Cambodia, to India and throughout Australia. His exceptional performing talent has garnered him worldwide acclaim. Time Out Hong Kong describes him as "a shooting star of the comedy scene" and The Age depicts him as "a master of timing".

For two years, Simon was the host on Channel 31's late night talk show Live on Bowen. He also hosts a popular web series, Beat Streets with Simon Taylor. His online content has often gone viral and he was a featured act on ABC's Comedy Up Late.

Chris Ryan

WINNER: Best Newcomer Sydney Comedy Festival 2019

Chris Ryan is one of Canberra's premier comedians – with her razor sharp wit and no-nonsense look at the world, she is fast making a name for herself as a rising star. Chris's laconic take on passive aggressive co-workers, family and relationships has earned her widespread acclaim and has seen her perform around every pocket of Australia.

"Unapologetic and ruthlessly clever - one of Canberra's funniest people." - Sydney Comedy Festival Showcase Tour 2019.



For show terms & conditions click
Here