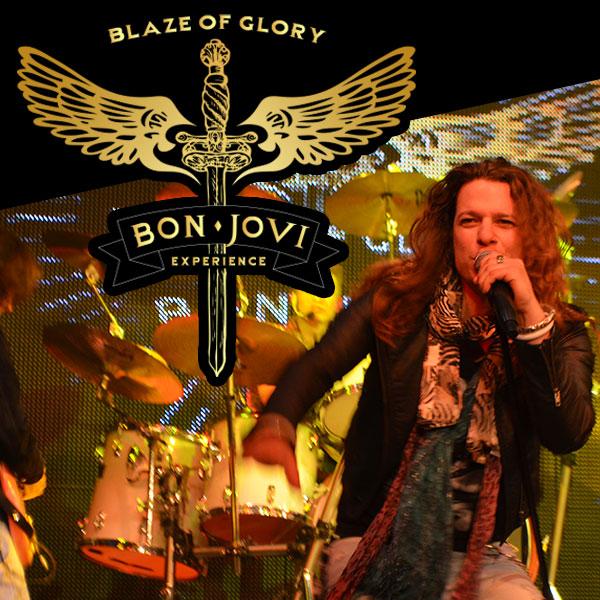 BLAZE OF GLORY - THE BON JOVI EXPERIENCE (18+)
Friday 2 Aug 2019 | $25.00
Doors open 8:00pm
Support act from 8:30pm

Blaze Of Glory is an incredibly authentic Bon Jovi tribute & experience, paying their respects to the greatest rock band ever - Bon Jovi!

With their catchy hooks, good looks and irresistible pop-metal sound, it's no wonder Bon Jovi became one of the bestselling bands of all time with over 130 million albums sold worldwide.
Releasing hit after hit for over 25 years the band are still going strong but alas, very rarely include Australia in their world tours.

Blaze of Glory is a high energy, charismatic and uncannily realistic tribute to Bon Jovi, recreating all the hits as faithfully as possible - Living On A Prayer, Wanted Dead Or Alive, Bad Medicine, Lay Your Hands on Me, You Give Love A Bad Name and many more! We will bring you back to the glorious 80's, 90's and 2000's in three decades of classic songs that made them the biggest band in the world!

Dellacoma Rio (Del) is an experienced explosive lead vocalist with a relentless work ethic. He has already shared the stage worldwide with a slew of major acts (including Def Leppard, Skid Row, Black Label Society and Winger) and graced main stages at major festivals (including Rock USA, Rocklahoma, Rockin the Rivers and Rock Fest).
Del brings a natural charisma to the role of Jon Bon Jovi which has to be seen to be believed!


For show terms & conditions click
Here